By Adrijana Jerkic, Art historian and Translator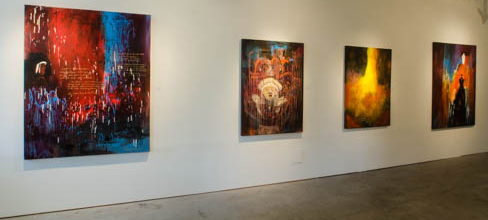 Michelle Letarte was born in Quebec City and lives in Toronto. She is currently a Scientist and Professor Emeritus at The Hospital for Sick Children and the University of Toronto, after a distinguished research career in molecular immunology and vascular biology.  She combines her passion for medical research with her love for the visual arts, an ideal outlet to express freely her active imagination. She was a part-time student at OCAD for many years and she still takes workshops in art schools and with diverse artists on a continuing basis.
Michelle moves comfortably between several mediums such as ink, pastel, or acrylic, and has worked on many supports, such as pastel cards, yupo paper, wooden boards, and canvas. However, it is through the mixed media and the collage technique that the artist has found her true means of expression, incorporating diverse elements such as photographs, rust imprints and indigo dyed fabrics. By exploring and layering different elements, she creates abstract paintings that reveal bold statements through shapes, forms and colors. The defining element of her work is the texture, created by using pumice, sand or glass. Through her mastery of texture, she provokingly evokes the history and memory tied to the spaces she depicts.
Michelle's imaginative strokes full of deep, rich colors –with special inclination for reds, ochres and yellows– speak of ancient and modern civilizations and cultural memories. The artist has found in her many travels a strong inspiration, and her paintings are the pinnacle of her multicultural encounters.
This catalogue shows Michelle's vision of Cuernavaca and Teotihuacán, two ancient Mesoamerican sites. She depicts the walls, silent witnesses of the remarkable cultural richness, by using acrylic and pumice on wooden boards. The paintings evoke the different layers of the walls as well as some traces of polychromy, creating an open space for reflection. Through their colors, textures and sumptuous shapes, the paintings that you are about to see will make you travel through space, time, and the artist's imagination.
---
Textures de l'histoire: un regard sur le Mexique et sa polychromie
Par Adrijana Jerkic, historienne de l'art et traductrice
Michelle Letarte est née à Québec et demeure à Toronto.   Elle a fait carrière en recherche dans les domaines de l'immunologie moléculaire et de la biologie vasculaire à l'Hôpital « Sick Children » de Toronto. Elle est maintenant Professeur Emérite à l'Université de Toronto et au « Sick Children ». Elle a su combiner sa passion pour les sciences et les arts visuels, ce qui lui permet d'exprimer librement son esprit créatif.  Elle a étudié à OCAD à temps partiel pendant plusieurs années et continue à participer à de nombreux ateliers dans des écoles d'art ou avec divers artistes.
Michelle est familière avec plusieurs médiums tels que l'encre, les pastels et l'acrylique et travaille sur divers papiers, et sur bois ou toile. Cependant, c'est par les techniques mixtes et les collages que l'artiste trouve son mode d'expression idéal,  incorporant dans ses tableaux des éléments tels que photos, transferts d'images, et impressions de rouille ou d'indigo sur tissus ou papiers. En explorant ces éléments divers, elle crée des œuvres abstraites qui révèlent par des formes solides et des couleurs vives sa force de caractère.  Ce qui définit son travail est l'utilisation de textures tels que pierre ponce, sable et billes de verre. Elle maitrise l'art de la texture et s'en sert pour évoquer l'histoire associée aux sujets qu'elle peint.
Michelle utilise des couleurs riches et vives, avec un penchant pour les rouges, jaunes et ochres, qui rappellent les civilisations anciennes, ou les bleus de la mer et du ciel qui offrent le calme. Elle essaie de recréer la mémoire des lieux qu'elle a visité pendant ses nombreux voyages à travers le monde.  Chaque exposition décrit une nouvelle aventure qu'elle veut partager et immortaliser.
Ce catalogue nous transmet la vision de Michelle sur Cuernavaca et Teotihuacán, deux anciens sites mésoaméricains. Elle est fascinée par les murs usés par l'âge, et témoins silencieux d'un riche passé culturel. L'artiste utilise des couches de pierre ponce texturées avec différents outils et une palette limitée d'acryliques, appliquées sur panneaux de bois. Les peintures évoquent la vie des murs au fil du temps, révélée par les traces de polychromie, et laissent place à un espace de réflexion. De par leurs couleurs, textures et formes somptueuses, les œuvres de l'exposition vous feront voyager à travers l'espace, le temps et l'imagination de l'artiste.